Five reasons to use plastic pallets with skids
This packaging complement is the ideal solution for companies that need versatile and functional storage and transport elements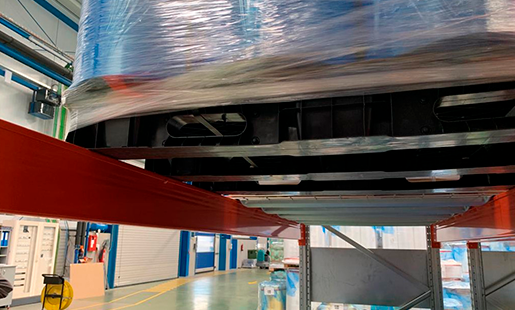 On other occasions we have already analysed the advantages of using plastic or cardboard pallets, as opposed to traditional pallets made of wood. Among the most outstanding are their lightness, the absence of dangerous elements such as splinters or nails and the savings in phytosanitary treatments.
Specifically, plastic pallets with skids facilitate storage and distribution on shelves, making them an ideal solution for companies with vertical storage needs, but who do not want to make a significant logistical outlay.
In this text we give you five reasons to use this type of pallets with skids:
Logistic saving.Plastic pallets with skids are versatile packaging complements at a very competitive price. Their functional design and characteristics save storage space, handling time and logistical costs, making them a profitable solution for companies.
Lightweight.As they are made of plastic, these pallets are considerably lighter than their wooden counterparts. As they are lighter in weight, they are easier to handle and transport and can be stored when not in use on top of each other without requiring an extremely sturdy surface.
Resistance.The skids allow the pallets to support up to 800 kilograms on shelves.
Respect for the environment.As it is an element made of plastic, the pallets are durable, so they can be reused on numerous occasions. And once they have to be disposed of, they can be recycled, reducing the volume of waste and contributing to the care of the planet and the circular economy.
Safe handling.The design of these pallets allows them to be accessed and moved from all four sides, making handling easier.